1-843-686-3355
EMAIL

Brochures: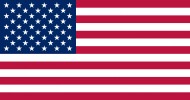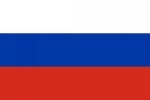 Junior Golf Academy in a Golf Mecca
The JPGA is located in the heart of Hilton Head Island providing easy access to all the Island has to offer. We have recently built our new corporate offices, fitness and training center less than a mile from our housing and golf courses. We have added an indoor state-of-the-art practice area, simulator and learning tools to fulfill the students needs for inclement weather or late training. We also conduct our fitness program in our spacious gym.

The JPGA campus consists of six, 4 bedroom 4 1/2 bath houses located in its own gated community. Experience the low country feel and southern charm with beautiful live oaks draped with spanish moss. Students can walk to the beach and to the park, which includes soccer, baseball and basketball. The campus is also a bike ride away from shopping, dining, golf courses, fitness and training center.

World class courses, beautiful beaches, a wide variety of shopping, host to the famous PGA Tour Event and more... Hilton Head is a very safe environment and makes this place truly beautiful to visit and live.

Located within walking distance, just minutes away from accommodations, connected with well-maintained bike paths. The Hilton Head Island airport is nearby making it extremely convenient for travelers arriving at the Hilton Head Island Airport.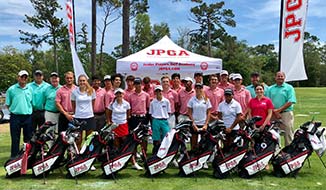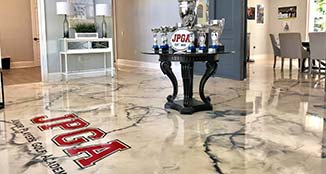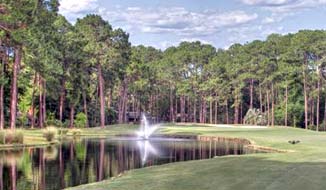 The Facilities
Designed to be the ultimate junior golf training facility
Instruction Areas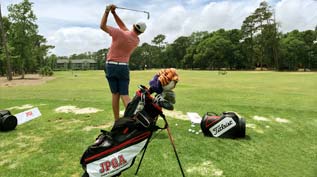 Areas where you and your instructor can work on your swing, putting, or other aspects of your game.
Fitness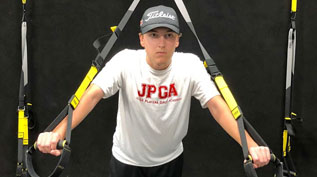 The gym is equipped with everything you need to keep yourself in tip top shape and performing at the highest level.
Putting Greens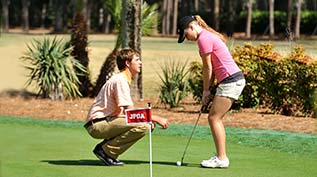 We provide individualized training to our students including one on one putting instruction to help you lower your scores.
Golf Simulator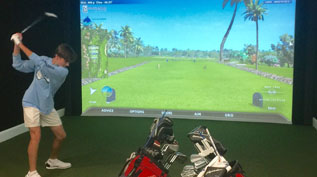 Work on specific aspects of your swing and immediately see how it will affect your game in virtual simulation.
Learning Tools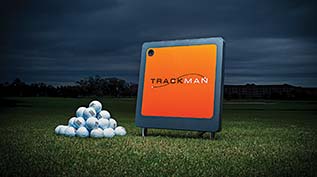 The most advanced technology including TRACKMAN and V1 Professional Video Coaching System for zeroing in on every detail of your game.
Instructor Offices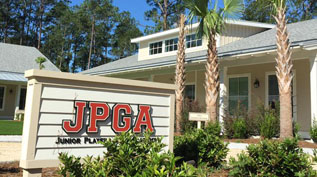 Offices provide a private space for instructors to meet with their students and for them to perform their everyday office tasks.
Hilton Head Accommodations
Comfy, close to the academy, and maintained by a house parent.
Deluxe Amenities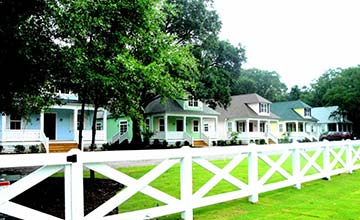 Experience the Lowcountry feel and Southern Charm with beautiful live oaks draped with Spanish moss. The homes include all the amenities to help students feel right at home.
Feels Like Home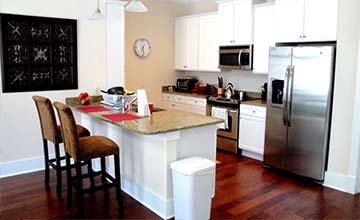 House parents prepare nutritious meals daily for our students including breakfast and dinner. Students are provided a weekly menu for dinner.
Live the Island Lifestyle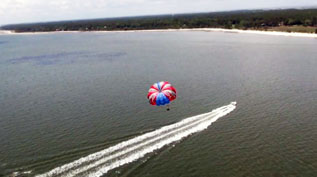 Students are walking distance from the beach and the park which has soccer, baseball, and basketball. The campus is a bike ride away from shopping, dining, and entertainment.


Hilton Head Island Location
2 Finch Street
Hilton Head Island, SC 29926
1-843-686-3355
Hilton Head Island Airport (HHH)
• Visit HHH Airport Website

Driving Directions from Hilton Head Airport
From the Hilton Head Airport, turn right onto Beach City Road. Follow Beach City Road for a half mile and turn right on Finch Street. The entrance to the Junior Players Golf Academy will be on the right.
Savannah/Hilton Head International Airport (SAV)
• Visit SAV Airport Website

Driving Directions from Savannah Airport & Interstate 95
From Savannah/Hilton Head Intl Airport turn onto Interstate 95 North. Take Exit 8 in South Carolina to Hwy 278 East. Follow 278E (approximately 18 miles to the bridge) to Hilton Head. Stay right onto 278 Business for another 2 miles to Beach City Road. Turn left on Beach City Road and follow for 1.3 miles. Turn right onto Finch Street and the entrance to the Junior Players Golf Academy will be on the right.
Things to See and Do
Miles of Beautiful Beaches
Boating & Sailing
Bike Trails & Walking Trails
Discover Arts & Culture
World-Class Golf Courses
More than 220 Restaurants
Plenty of Tennis Courts
Endless Water Sports
Public Parks and Playgrounds
Evening Activities
Biking and Walking
Fishing and Wildlife
Swimming Pool Access
Group Activities & Games
Volleyball and More...