(January 18, 2015) The Hurricane Junior Golf Tour traveled to Bluffton, South Carolina on January 17-18 for the Bluffton Jr. Shootout. Players battled extremely windy conditions during both rounds until all players finished 36 holes. Winners in all four divisions received an invitation to the 2015 Mid-Season Invitational and Tour Championship. All divisions were ranked by the Junior Golf Scoreboard. Additionally, the top ten finishers in each division received points towards year end honors which include state teams, ALL HJGT teams, and the Hurricane Cup.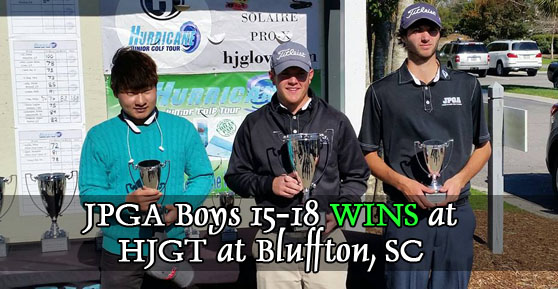 Bluff Boy 15-18 winnerScores were close in the Boys 15-18 division on Saturday with many players in the mid 70's and tied for first through 18 holes. Taylor Kay-Green with the JPGA and Jan Schneider of Hilton Head Island, SC respectively were the first round leaders with 73, which left nine players within three strokes of the lead. Things would remain close throughout the weekend, especially between Kay-Green and Schneider. However, JD Moore who is in his 3rd year attending the JPGA came from two strokes behind on Saturday to win with a 72 on Sunday. On Sunday alone, he dropped in four birdies to card the final round. Jae Jin Lee who attends JPGA Korea also finished with a 72 on Sunday and made an eagle and birdie on consecutive holes. Kay-Green shot a 76 on Sunday to finish tied with Jin Lee for second place over the whole weekend. Moore finished the weekend with the most birdies in the division at six and Jin Lee scored the only eagle of the weekend in the division. Jin Lee also shared a lead for the most pars made with Walker Campbell of Hilton Head, SC. Fantastic golf from all players led to an intriguing finish here at Old South in Bluffton.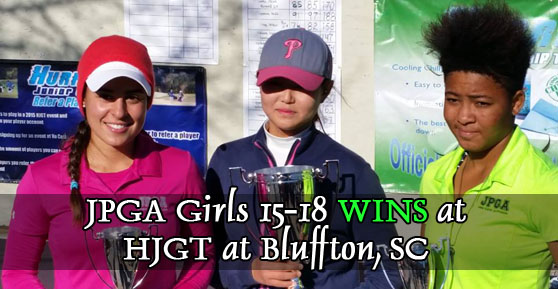 Bluff Girl 15-18 WinnerIn the Girls 15-18 division, Ji Hyeon Ma who is with JPGA Korea shot an impressive 69 in the final round on Sunday to comeback from a three stroke deficit the previous day. Ma finished the weekend with six birdies all coming on Sunday. Isidora Nilsson of the JPGA came in second over the weekend and finished with 72 on Sunday after tying in the first round with Ma for the lead. Anita Uwadia who also attends the JPGA was the first round favorite heading into Sunday but struggled to find the edge on Sunday finishing with a 78 to secure third place. Nilsson had the most pars of the weekend at 26 followed by Ma at 24 and Uwadia at 22. Another exciting finish here at Old South.