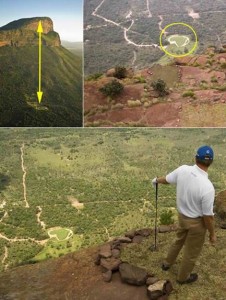 Few holes in the history of golf have generated as much interest as the The Extreme 19th
Newspapers, magazines, TV and radio stations across the globe have run features on this most amazing golf hole.
Accessible only by helicopter, with the tee set 400m up on the  majestic Hanglip Mountain and played to a green the shape of Africa some 400m below, the Extreme 19th has captured the imagination like no other hole.
Golfing superstars as well as celebrities from across the world of sport and entertainment have been equally as impressed with this most unique hole.
In a shoot-out with French star Raphael Jacquelin, 2008 Open Champion Padraig Harrington famously became the first person to make a Par 3 – but since then he has been joined by many others – just normal golfers enjoying the golfing experience of a lifetime.
No trip to Legend Golf & Safari Resort is complete without taking on the challenge of the Extreme 19th
To view a list of the scores of all those who have played the Extreme 19th, visit the Leaderboard.