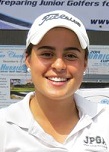 Congratulations to JPGA student Isi Quevedo on winning the HJGT Girls 15-18 division Hilton Head Jr Shootout by a impressive 15 shots. Isi shot back to back rounds of 69 for a 2 day total 138, 6 under par. Isi made 8 birdies and only 2 bogeys during the 36 hole event.
In other divisions  Congratulations to Bumin Choi of the JPGA who finished in 2nd place in the Boys 11-14 division. Bumin shot 72-77 for a 2 round total of 149 which was good enough to force a playoff in which unfortunately did not go his way. Also Christine Scholten of the JPGA who finished 3rd in the girls 11-14 division.
Other notable finishes from JPGA students; Boys 15-18 division Bryson Nimmer 4TH, Lewis Reid T-5TH, Matt Mannion 8TH and Toks Pedro 9TH. Girls 15-18 Division Teresa Casasus 4TH, Delaney Day 6TH and Ana Orlov 7TH.
JUNIOR PLAYERS GOLF ACADEMY