Our students competed against some of the best players from all over the world. Congratulations to all of you for your hard work and dedication. Thank you to the JPGA Coaching Staff for helping our students succeed!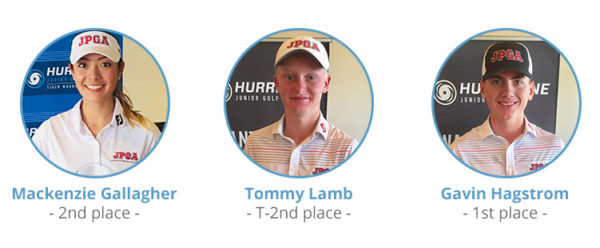 Mackenzie Gallagher finished 2nd Place in the 2018 HJGT Tournament of Champions at Orange County National December 1st-2nd, 2018. Mackenzie fires a -3 under 69 on day one and followed it up with a +1 over 73 to finish -2 under. Mackenzie had a great fall, we look forward to the spring!
Tommy Lamb finished tied for 2nd, one shot back from fellow JPGA Student Gavin Hagstrom. Great playing Tommy, we are proud of you!
Gavin Hagstrom from Fort Collins, CO! Gavin won the HJGT Tournament of Champions at Championsgate International Course December 1st-2nd, 2018. Gavin was only one shot back after round one firing a 3 over 75. Condition were tough due to 20 mile an hour winds on Saturday. Day two brought the same conditions, maybe even more wind than Saturday making it difficult for players to take it deep. Gavin finished with a 5 over 77 to win the Championship by one shot. Congratulations to Gavin, he beat 88 players, some of the best from all over the world!