The Junior Players Golf Academy Win 3 out of 4 Divisions at the HJGT South Georgia Junior Classic, Jekyll Island, GA over the weekend.
Boys 15 – 18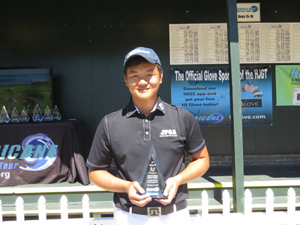 In the Boys 15 – 18 division Daniel Oh from the Junior Players Golf Academy would take the title of individual medalist for the South Georgia Junior Classic with a two-day total of 139 (-5). A commanding five shot victory over second place finisher Brett Krekorian also with the JPGA was the definition of a stellar tournament. Oh simply deserved this win as he made very few mistakes in his two rounds. Casually carding ten birdies, only five bogeys and an abundance of pars is certainly one way to gain some recognition and some first place hardware. I am sure we will be hearing more about Daniel Oh in the upcoming events as he continues to excel as a wondrous junior golfer. Krekorain playing out of the JPGA deserves a lot of credit for his performance this weekend. Firing a two-day total of 145 (+1) is something to be proud of, especially on a course as tricky as Indian Mound. Competing with Oh in the birdie race, Krekorian carded seven himself, but it all came down to the small things that one must pay attention to when battling for the gold. Krekorian had a devastating two double bogeys, one each round that took him out of contention. Taylor Kay-Green also with the JPGA and Austin Daniel out of Saint Simons Island, GA came in a two-way tie for third place with two-day totals of 146 (+2). Both of these competitors had a great tournament but it seems they just made too many bogeys and too few birdies to catch Oh and Krekorian.
Girls 15 – 18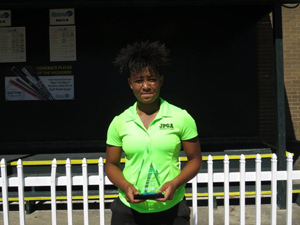 For the Girls 15-18 division Anita Uwadia with the Junior Players Golf Academy was crowned this weekends victor with a two-day total of 146 (+2). She earned first place honors with a seven shot margin over JPGA own Isidora Quevedo. After the first day, there was a lot of promise for an exciting showdown in round two. But after it was all said and done, it turns out that Uwadia did not want the company at the top of the leaderboard. Having a rough first day shooting 77 (+5), she could not get any type of momentum started. Only carding two birdies, five bogeys, and a lonely double was not the way she wanted to end day one. Coming back with absolute vengeance in round two, she posted an exhilarating 69 (-3), carding six birdies, nine pars, and three miniscule bogeys. It was sn exciting comeback for Uwadia and will be her fifth victory this season. Quevedo squeezed out a second place finish with a two-day total of 153 (+9).
Boys 11 – 14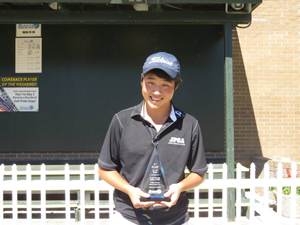 For the Boys 11 – 14 division, Bumin Choi with the Junior Players Golf Academy earned first place honors with a two-day total of 154 (+10). Firing a stellar first round of 75 (+3) turned out to be the ticket that would end up saving him from a playoff. Choi's first round was the best out of the field, holding a four shot lead over Justin Ortiguera out of Ponte Verda Beach, Florida. His opening nine 34 (-2) was the kicker that earned him a first place victory. No one even came close to this score, giving Choi a distinct advantage over the rest the players in his division. At the start of round two, Ortiguera as well as Jackson Quarles of Chatsworth, Georgia, who was only five shots back, were eager to make a push and put some pressure on the leader. Unfortunately, Choi put on an incredible display of defensive golf and did not allow any shots to be made up by his two close competitors.