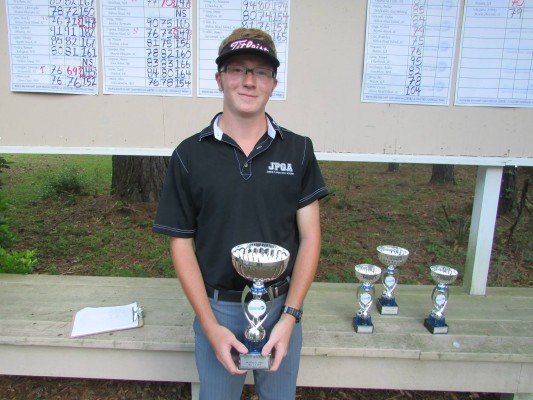 Congratulations to JPGA Student Christian Garruppo on his first 15-18 years division victory.
The Hurricane Junior Golf Tour traveled to Bluffton, South Carolina from May 2-3, 2015 for the Bluffton Junior Open. Players were blessed with beautiful sunny skies and mild temperatures all weekend. Top three place winners in all divisions received an invitation to the 2015 Mid-Season Invitational and first place winners in each age division received an invitation to the Tour Champ…ionship. Both Boys 15-18 and 13-14 age divisions were ranked by the Junior Golf Scoreboard. Additionally, the top ten finishers in each division received points towards year end honors which include state teams, ALL HJGT teams and the Hurricane Cup.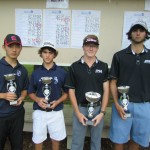 Scores were tight in the Boys 15-18 division after day one, with five players tied for the lead with a day one total of 76(+5). One of those players was our eventual division winner, Christian Garruppo with the JPGA, who recorded a two day total of 145(+3) to hold off his fellow JPGA teammate Taylor Kay- Green recorded a two day total of 147(+5). With scores so tight after day one many players were vying for the first place trophy. Brooks Dyess of Hilton Head Island, SC sat atop of the leader board after day one and felt that is where he belonged, that is before Garruppo came in to take the win. Dyess was consistent on the day finishing the round with a 71(E) and a two day total of 147(+5) to tie with Green. Garruppo's strong putting and scrambling lead to his victory. With five birdies and eleven pars on the day Garruppo had the trophy in his sight. Ultimately this would be enough for him to hold off Green and Dyess who would end up tied for second place. This is Christian's first victory on the HJGT in the boys 15 – 18 years division.