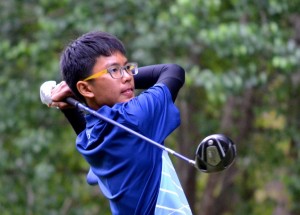 Congratulations to JPGA 3 WEEK Camper  Parathakorn "POON" Suyasri on winning the IJGT SC Callaway Junior Worlds Qualifier a Golden Bear GC, HHI, SC.
The event was the first Callaway Junior World Qualifier of the Southeast Tour for the 2013-2014 season. Winners of the event received an exemption into the prestigious
Callaway Junior World Golf Championships
.
At the end of regulation, JPGA Camper 
Parathakorn
Suyasri
of Chonburi, Thailand, and 
Taisuke
Ono
of Tokyo, Japan, remained tied with scores of 145 overall. The tie forced a playoff held on the par-4 hole No. one. Ono teed off first, hooking left to land in the rough while Suyasri followed to find himself in the center of the fairway. Suyasri's second shot from the fairway hit the green while Ono's came up short. Ono's chip shot landed within three feet from the hole where his putt for par came up shy. After Ono tapped in for bogey, Suyasri use his par putt to secure the win.
Suyasri's victory came in his first-ever IJGT event where he led after round one with a low score of 69. Despite struggling with a few bogeys in round two, scoring par on 14 of 18 holes kept him among the leaders. He finished with scores of 69-76 – 145 overall.
The Callaway Junior Worlds is held at Torrey Pines Golf Course, San Diego, CA, July 14TH – 18TH.
JUNIOR PLAYERS GOLF ACADEMY