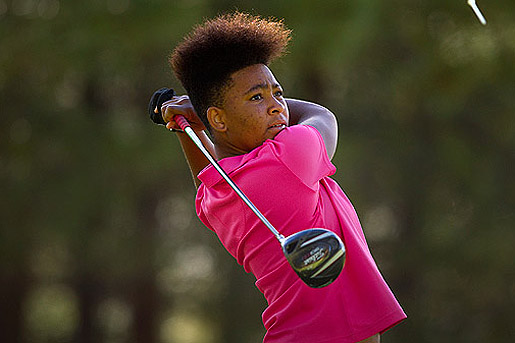 By David Shefter, USGA
July 21, 2014
FLAGSTAFF, Ariz. – Someday, Anita Uwadia would like to do for Nigeria what Se Ri Pak achieved for Korea.
Her goal: Become the first golfer from her country to win a major championship and/or be the world No. 1.
Pak, who won the 1998 LPGA Championship and U.S. Women's Open, inspired a whole generation of Korean stars, including future U.S. Women's Open champions Inbee Park, Birdie Kim, Eun-Hee Ji and Na Yeon Choi, as well as other top LPGA Tour golfers such as I.K. Kim, Amy Yang and Chella Choi.
Perhaps Uwadia can become a golfing pioneer for her African nation.
But this week at the 66th U.S. Girls' Junior at Forest Highlands Golf Club, the 16-year-old Uwadia will settle for being the first Nigerian to ever compete in a USGA championship.
While Nigeria, a country with approximately 175 million people, can boast of world-class soccer players – it won the gold medal in the 1996 Olympics and is among FIFA's top-rated teams – and basketball stars, including Hall of Famer Hakeem Olajuwon, golf remains relatively obscure.
According to the WorldGolf website, there are only 46 courses in Nigeria, which is far fewer than greater Phoenix (more than 200). And only a small percentage can afford to play.
"To play a golf course, you have to have a lot of money," said Uwadia after opening stroke-play qualifying on Monday with a 9-over 81 on the Meadow Course. "There are no public courses. Our greens are like the fairways here [at Forest Highlands].
"People still think golf is a boring sport and don't regard it as a sport in Nigeria."
Uwadia took up the game through her father, a marine engineer and avid player in Lagos. Her dad purchased a golf set for her younger brother, Charles, but not wanting to be left out, Anita, then 9, started using his clubs. She thought, anything he can do, "I can do."
After one week, Anita had basically stolen Charles' set, forcing her father to purchase a set for his daughter.
"He got me my own set and, boom, I am here," said Uwadia. "I saw Annika Sorenstam and Lexi Thompson, who is like an idol to me, [on television] and I was like, I am going to beat them when I get older."
Quickly, Uwadia's game progressed, and when a close friend, Toks Pedro, came to the U.S. to improve his game, she saw an opportunity. Pedro will play golf at Rutgers University in New Jersey this fall.
"One day, he just disappeared," said Uwadia. "I found out from his dad he went to [an academy]. I convinced my parents to let me check it out because he was doing pretty well."
Three years ago, Uwadia enrolled in the Junior Player Golf Academy in Hilton Head, S.C. When she arrived, she barely could break 90. Now she routinely shoots in the 70s. Earlier this summer, she won the Africa Youth Games in Botswana, shooting 76-76-73 among a field of 21 players ages 18 and under.
She also has represented Nigeria at the past two Junior Open Championships, a biennial competition conducted by The R&A. Each country can select one male and one female player. Last week at West Lancashire Golf Club in England, she tied for 26th out of 83 players who made the 36-hole cut.
Uwadia, who sports a hairdo right out of the 1990 movie House Party, believes qualifying for the U.S. Girls' Junior was a major step in her golf development. The next jump will be to American Junior Golf Association events. Prior to this week, she primarily competed on the Hurricane Junior Golf Tour, a regional circuit in the Southeast that she compared to a mini-tour.
"She's an impressive player," said Clive McCann, Uwadia's coach at the JPGA for the past four months who is serving as her caddie. "I think she played with a little bit of fear for awhile [on Monday]. The first bogey, I saw her personality change a little. Then she got a little defensive. From there on, she didn't really play her game."
That frustration showed on the par-4 first hole – her 10th of the round – when she gritted her teeth after a 6-foot birdie putt lipped out. Two holes later, she reached the par-5 third in two and proceeded to four-putt from 60 feet. Uwadia looked at her mother and pointed an index finger at her head. And on the par-4 ninth, she had the look of deflation as she walked up the fairway.
Despite the rough day, coaches from San Diego State and the University of South Carolina walked the final nine holes. Both schools are on Uwadia's radar.
"Her score really didn't reflect her talent today," said McCann, a former player on the European, South African and South American tours who has worked with dozens of professional golfers since moving to the U.S. 38 years ago from his native South Africa. "She needs to work on her short game; her chipping around the greens and things like that. But her long game is really quite good and she's a long hitter."
Uwadia's day typically consists of six hours of school at Hilton Head Prep followed by three hours of practice and instruction at the academy, which currently has 26 students, most of them international. McCann said the teacher-to-golfer ratio is 5-to-1.
Uwadia's family is not in the States, however. One older sister attends school in England, while her two other siblings are in Nigeria, along with her parents. She stays in touch through WhatsApp, which makes it easy to text people anywhere in the world.
Last year, Uwadia went to the Masters for a practice round. A love affair was born.
"I really didn't care about the players, I just wanted to touch the grass," said Uwadia, whose favorite course is Long Cove Club in Hilton Head. "I would love to play Augusta."
Competing at the U.S. Girls' Junior has been eye-opening. It's given her a chance to see elite competition, the kind she would never witness in Nigeria.
"I get to see all these great players and learn from them," she said. "In Nigeria, you don't see that very often. I like seeing new golf courses and meeting new people."
[ Source: David Shefter is a senior staff writer with the USGA. Email him at [email protected]. ]