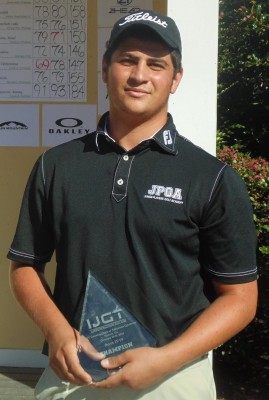 The IJGT's Southeast Tour headed to Savannah for the Georgia Open at Savannah Quarters on October 18-19, 2014. The two-day 36 holes tournament featured a field of more than 80 juniors from around the world competing for national rankings and IJGT merit points.
In a come-from-behind effort,
Brett Krekorian
with the Junior Players Golf Academy on Hilton Head Island, broke free from a multi-person tie to move into first for the win at the
Georgia Open
. With a four-stroke deficit, Krekorian made up ground with the help of five second-round birdies and 10 pars. Krekorian comes off of a tie for 18
th
place in the
IJGT Lowcountry Open at Oldfield Golf Club
in his first-ever IJGT event. His final-round 2-under 70 earned him the Clazic Belts Low Final Round Award, the award presented to the male and female junior with the lowest final round score of the tournament. Krekorian finished with scores of 75 and 70 to combine for a tournament total 145.
"I knew that if I could not make big numbers and make a few birdies and continue with pars, I could probably end up winning eventually," said Krekorian.
Sharing second was Mark Goodall of Livingston, Scotland, and Nick Russell of Hilton Head Island, S.C., both finishing with two-day totals of 149.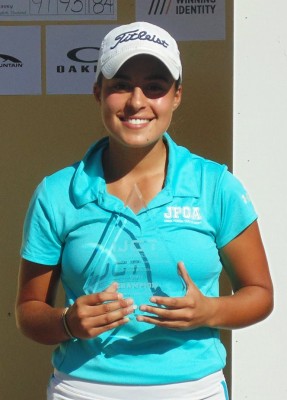 Also in a come-from-behind fashion, Isidora Quevedo also with the Junior Players Golf Acdemy, won the Girls Division. Trailing by three strokes at the end of round one, Quevedo used a stellar back-nine in round two to move into first. With a 12-hole par-or-better streak on holes 7 through 18, Quevedo recorded a final-round score of 74 to not only make up the deficit but also move into the lead by one.
"I did the same thing as yesterday and just tried to hit as many greens as possible. I played smart; I hit fairways, hit greens – as many greens as possible – and that was the main thing. I made some important putts for par, too," said Quevedo.
In second was round-one leader Clementina Rodriguez of Caracas, Venezula, with a total 147. Rounding out the top three was Mind Puangcharoen of Chonburi, Thailand, with scores of 79 and 71 to combine for a total 150. Puangcharoen's 1-under 71 in round two earned her the Clazic Belts Low Final Round Award for the girls.