Bluffton, SC (October 26, 2014) The Hurricane Junior Golf Tour was in Bluffton, SC on October 25-26 for the Low Country Junior Shootout at the beautiful Old South Golf Links. Winners in all four divisions received an invitation to the 2014 HJGT Tour Championship and the boys 11-14, boys 15-18, and girls 15-18 were ranked by Junior Golf Scoreboard.  Additionally, the top 10 finishers in each division received points towards year end honors which include HJGT state teams, ALL HJGT teams and the Hurricane Cup. The Boys 15-18 division winner received 4 AJGA performance stars and the top 5 received 1 AJGA performance star.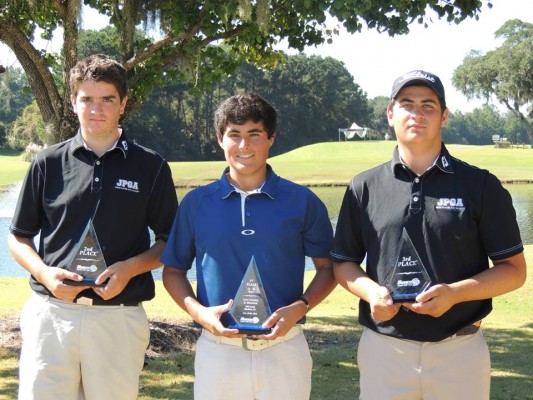 The Boys 15-18 division was very impressive this tournament with 11 of the 53 players finishing with total scores of even par or better. Coming in first place was Bryson Nimmer of Bluffton, SC. Nimmer scorched the course over the weekend and finished with a brilliant -7 total. The Clemson commit finished the tournament with 10 birdies and played 34 of his 36 holes at par or better. Two of Nimmer's birdies came on hole 18 which helped the HJGT raise more money for Breast Cancer Awareness. Nimmer tore apart the par 5's this weekend playing them at -4 over the 2 days.  With his first place finish Nimmer earned 4 AJGA performance stars. In 2nd place was Rowan Foxley, who fired two rounds of 70 to post a total score of -4. Foxley, with the Junior Players Golf Academy, finished his tournament with 9 birdies and 22 pars. The par 4's were where Foxley really excelled this week playing them at -5 for the tournament. Our 3rd place finisher in the Boys 15-18 division was Brett Krekorian also with the JPGA shot 70, 72 for a two day total of 142. He finished with 8 birdies and 22 pars. Like Nimmer, Krekorian recorded 2 birdies on the HJGT Breast Cancer awareness holes to help us raise money in the race for a cure. Other notables from the weekend were Brock Erwin, Austin Daniel, Jonathan Phillips, Taylor Kay-Green (JPGA), Daniel Oh (JPGA), and Javier Prensa who all shot 1 under par for the tournament.
The Girls 15-18 division was tightly contested for much of the 2nd round w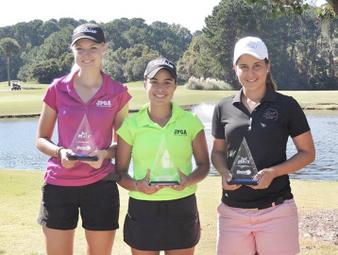 ith Isidora Nilsson with the Junior Players Golf Academy and Christina Guitierrez battling back and forth for the title. In the end it was Nilsson who took home the trophy with an impressive 2 under par total. The South Carolina commit shot 68 in her first round and followed it up with a solid 74. Over the two days Nilsson recorded 8 birdies and had 23 pars. Coming in 2nd place was Christina Guitierrez of Veracruz, Mexico. Guitierrez shot an impressive 70 in her first round and was very much a thorn in Nilsson's side for much of the second round staying with her shot for shot. The two golfers were very entertaining to watch over the two day. Guitierrez finished her tournament with 5 birdies and 25 pars.  In a 3rd place tie was Anita Uwadia and Ana Orlov both with the JPGA.
The Boys 11-14 division needed 4 playoff holes between Daniel Azallion and Brandon McBride to determine a winner Sunday. Azallion a native of Bluffton, SC secured his victory by birdying the 4th hole of the playoff. After an impressive first round of 69 in the first round, Azallion had a 6 stroke lead over McBride going into the second round. McBride made up all 6 strokes and birdied hole 18 to force the playoff. Azallion finished his tournament with 8 birdies and 20 pars. One of the big highlights of the weekend was Azallion's 32 on his front nine during round one, birdying 4 of the 9 holes. McBride shot 75, 70 over the two days and had 7 birdies along with 23 pars during the tournament. Bumin Choi with the JPGA played very steady over the 2 rounds to finish with a 3 day total of 153. Choi had 4 birdies and 21 pars over the two rounds and played the par 5's at a 2 under par clip.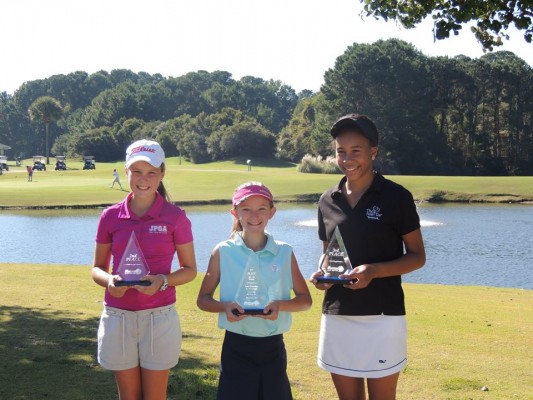 The Girls 11-14 division was won by Madilyn Newman who finished with scores of 101 and 102 for a two round total 203. Newman who is only 10 years old (playing in 11-14 age division) was all smiles after her round and was very excited to win the event.  Coming in 2nd place was Savannah Hylton with the JPGA, who finished with a two round total of 206. Hylton kept it close all of the second round and really gave Madilyn a run for her money. In 3rd place for Michaela Kaigler of Savannah, GA. Kaigler was our most improved girl over the weekend improving by 29 strokes from round 1 to round 2 earning her the prize of a full set of golf pride grips.