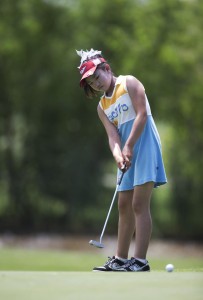 You may have watched the Drive, Chip, and Putt Championship the Sunday before The Masters. Well If you did, you may recognize 11 year old Lucy Li who captured the girls 10-11 Division last month at Augusta National. On Monday, Lucy Li became the youngest player ever to qualify for the US Woman's Open, which will be played June 19-22 at Pinehurst No. 2.
Li shot 74-68 at the par 72 Half Moon Bay in California Monday to beat second-place qualifier Kathleen Scavo by 7 shots. She will surpass Lexi Thompsons record for youngest player to qualify since 2007. Thompson was 12 years, 4 months & 18 days old when she played in the Us Woman's Open In 2007.
Li also qualified for the match play portion of the U.S Woman's Amateur Public Links Championship, which she lost in the first round. She will not be the youngest player to participate thogh. Befor there was a qualification process, Beverly Kiass was just 10 years old when she competed in 1967.
Read Full Story Here: http://sportzedge.com/2014/05/20/11-year-old-lucy-li-qualifies-for-u-s-womens-open/
How old were you when first started playing the game?
How old were you when you played in / qualified for your first tournament?