The Senior PGA Championship kicked off this week at Harbor Shores. The course opened on July 10th 2010 by designer Jack Nicklaus. On Opening Day In 2010, Mr. Nicklaus was joined for 18 Holes w/ Arnold Palmer, Tom Watson & Johnny Miller.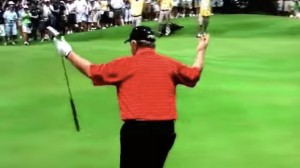 On the Par 5 10th, Johnny Miller hit his shot on the lower level of the green, facing a treacherous, roller coaster like putt. He wanted to chip it because he said there was no way he could putt it.
What Happened next, you wouldn't believe it if it wasn't here to see. Jack goes to Johnny Miller, puts his ball down next to his, takes a quick look and takes a swipe at the ball. Up the hill, around the corner, triple breaker. And what do you know. It goes in the hole. Are You Kidding Me?
He's still got it. These are the reasons we will never forget Jack Nicklaus is one of the best of all time.
Do you think Jack Nicklaus' record of 16 majors will ever be broken?