Adam Scott plays the Crowne Plaza invitational this weekend as No. 1 in the world. Monday when the Official World Golf Rankings were released, Scott jumped ahead of Tiger Woods to No. 1, becoming the first Australian to hold the top spot in 16 years.  The 33 year old hasn't played Forth Worth since 2011, but was a late addition after deciding to put his newly ranked mind to use. "I'm going to have to work pretty hard to stay on top, but a part of coming here this week was to play as the No. 1 golfer in the world and enjoy it, at least for a week," he said. "From there, we'll see what happens."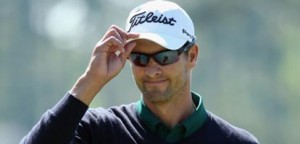 Monday night, Scott spent the night with some close friends & a bottle of champagne to celebrate his amazing accomplishment. While opportunities to reach the top spot came and went, Scott finally made it, but not the way he preferred. With Woods out of the PGA Tour, Scott was able to sit out of last week's HP Byron Nelson Championship, but still earn the ranking during his bye week. "You've got to enjoy the moment I think, a lot of the time, and certainly playing here this week is for me," Scott said. "It's something that you throw around a lot when you're a kid, when you're 12 years old, that you'll be the best player in the world. It's really quite incredible that it happened."
Of course he would have loved to win a tournament and jump to No. 1, but it's just the way the system works. All the great playing he's done this year has lead up to it. He just wants to make sure he can keep the momentum going and win this week or the next to keep his spot on top of the list. With 14 years of his professional career filled with both peaks and valleys, he made it very clear that he wants to take the time to enjoy this moment in his life.  Reaching No. 1 in the world is one of the highest peaks the game has to offer.
Read More here: http://www.golfchannel.com/news/golf-central-blog/scott-relishing-new-spot-atop-world-rankings/?cid=Email_ThursdayNL_20140522
Was it fair that Adam Scott got to sit out of the Byron Nelson and still reach No. 1?