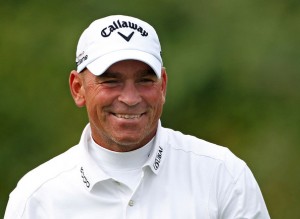 Thomas Bjorn set the course record at Wentworth on Thursday at the BMW Championship. With eight birdies and an eagle, Bjorn shot an opening round 10-under 62. His spectacular play led to a 2 shot lead over Shane Lowry going into the second round. Despite nearly 2 hours of weather delays, Bjorn still managed to shot his 3rd career 62, rating it his best in all 434 tournaments.
"I haven't had the best record here. I haven't had the best round here. It's been a long time since I've actually had any sort of result on this golf course." said Bjorn. "It's not a place when I come in here, I think, `Oh, this is going to be a great week.' I guess I've got to start sticking my head down for the rest of the week."
Today, the 43-year-old opened his day with a double-bogey 6. It didn't take long for Bjorn to get back on track. He ended up making six straight birdies from the 11th hole, and finished with another on 18 to take a 5 shot lead over two-time former champion Luke Donald. Donald won the BMW Championship in 2011 and 2012.
A win this week would be huge for Bjorn, making it the biggest prize check he would ever have won. $1.059 million to be exact. It would also secure him a spot on September's European Ryder Cup team, his first appearance since 2002.
Read more at: http://www.pgatour.com/news/2014/05/24/thomas-bjorn-ahead-by-five-after-third-round-in-surrey.html