The big story over the weekend was one of Rory McIlroy calling off his engagement with tennis star Caroline Wozniacki.
Coming close to tears in the media room on Wednesday, McIlroy put it all behind him for the week and came back on Sunday's final round of the BMW Championship to shoot a 6-under 66 to win by one shot over longtime friend Shane Lowry. This was McIlroy's 12th worldwide victory at only 25 years old.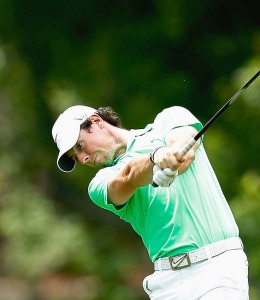 "I was just focusing on the job at hand which was to play golf and get the ball in the hole in the lowest number of shots possible … It's obviously been a week of very mixed emotions, but I'm sitting here looking at this trophy going, `How the hell, how did it happen this week?' But it did."
It was also his first win since coming back from behind to win the Australian Open in Sydney in December.
"The win at the end of last year in Australia sort of stopped all the questions about equipment and about struggling and slump and all this stuff," McIlroy said.
McIlroy will now head into the U.S. Open next month with a strong chance to contend on the weekend and try to win the U.S. Open for the second time in 4 years.
Lowry came into the last day 5 shots back of third round leader Thomas Bjorn, but not for long as Bjorn proceeded to make a triple-bogey 7 on the par-4 sixth hole. Lowry had then found himself in front of Bjorn and went on to make birdies on 10, 11 & 12.
However, he followed that with his own double-bogey on the par-4 13th, birdie on 14, and a 30-foot birdie putt on 18 to secure second place by himself.
"I'm happy but I know I am going to be sitting in my hotel room tonight and the 13th hole is going to be going through my head," Lowry said.
Read More from: http://www.pgatour.com/news/2014/05/25/mcilroy-wins-bmwpga.html
How do you think McIlroy will fair in the U.S. Open next month?