With Tiger Woods still recovering from microdiscetomy surgery he had on the 31st of March, he has officially decided to withdraw from next month's U.S Open. Going on nearly 3 months with no golf, this will be the second U.S. Open & 6th major he will miss in the last 6 years due to injury. He missed the British Open and PGA Championship in 2008 due to knee surgery, missed the same tournaments in 2011 while allowing his leg to heal, and The Masters for the first time in April because of his back surgery.
The U.S. Open will be held June 12-15th at Pinehurst No.2, were Woods tied for 3rd here in 1999 and runner-up in 2005.
Woods is also a three-time U.S. Open champion, with his most recent victory coming in 2008 at Torrey Pines. He won in a playoff over Rocco Mediate a week before his season ending knee surgery. It was his 14th victory in 46 major starts, a winning rate of about 30 percent as a pro. But since 2008, Tiger has not won a major, leaving him 4 short of Jack Nicklaus' record.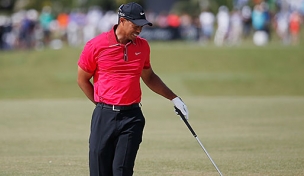 "Unfortunately, I won't be there because I'm not yet physically able to play competitive golf," Woods said. "I'd like to convey my regrets to the USGA leadership, the volunteers and the fans that I won't be at Pinehurst. The U.S. Open is very important to me, and I know it's going to be a great week."
This announcement really didn't come as a surprise though. Tiger said at a promotional event for the Quicken Loans National at Congressional last week, that he still has not taken a full swing with a golf club and doesn't know when he can or will.
Woods last teed it up on March 9th at Doral, shooting a closing round 78 while suffering from what he said was back spasms. He also withdrew from the middle of the final round at the Honda Classic the week before due to back pain.
Jack Nicklaus doesn't think much of it though, saying, "If he's healthy, I think Tiger has got 10-plus years to play top quality tournament golf, and I've said many times, he's got a little over 40 tournaments to play the major championships; he's only got to win five to pass my record. As good a player as he is, I don't think that should be a big deal. But then again, he's got to do it. Plus, he's also got to be healthy to be able to do it."
Read More at: http://www.golfchannel.com/news/doug-ferguson/woods-withdraws-us-open/
How long do you think it will be until Tiger Woods gets back to full health?
Do you think Tiger will surpass Jack Nicklaus' record of major wins?