Karl Vilips secured his impressive Future Masters win with a stunning shot out of a fairway bunker on hole 18 that set up a clinching birdie putt in the 11-12 age division championship at the Press Thornton Future Masters. Vilips hit his 3-wood off the tee at No. 18, and pulled it into the left fairway bunker. As the 12-year-old approached his ball, the challenge looked greater with each step. "I saw my lie, which wasn't great," Vilips said. "I was uphill into the face, five feet from the lip. You could see half the ball and it was on an uphill, sidehill lie."
Tournament director Kevin Klein saw what Vilips faced and told a rules official, "He can't get that on the green." Vilips was 131 yards from the flag with an awkward stance in the bunker. "'One of these guys is going to hit it close,'" Vilips told himself. "I was thinking all or nothing. I hit my 9-iron out of bunker and drew it in there." The ball finished three feet from the hole. "That was probably my best shot of the tournament," he said.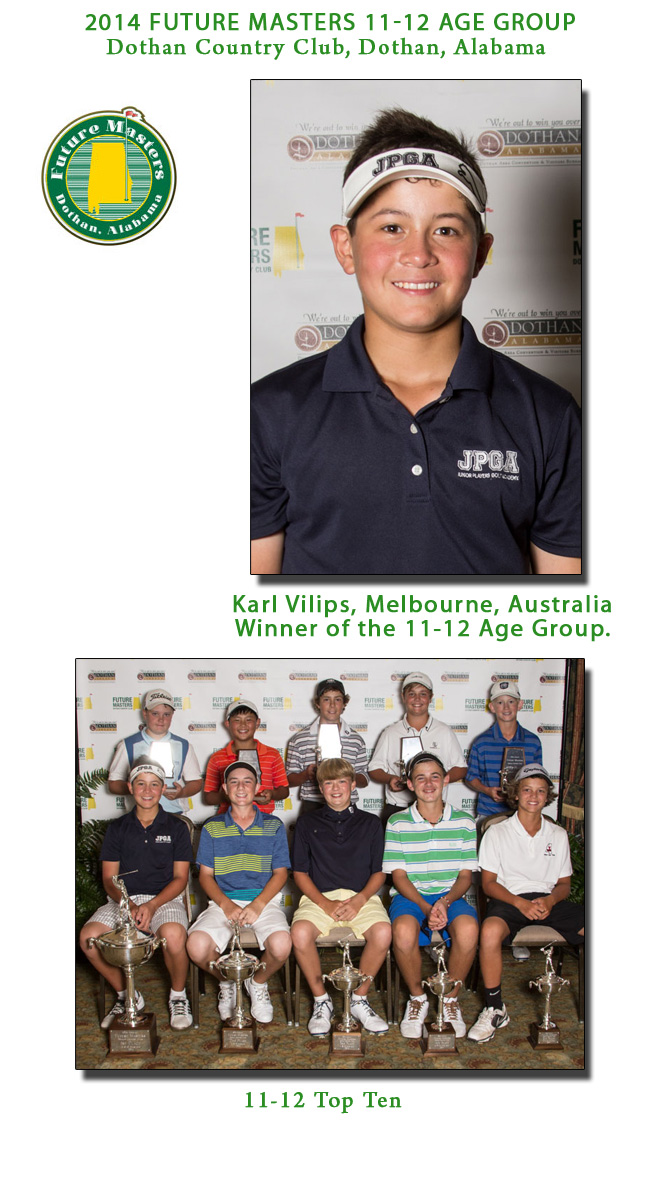 After watching the final holes, Vilips' father, Paul, said, "I aged at least another 5 years." Vilips' story is an unusual one. He is on a J-1 visa to be in the United States. "The reason we stay at the golf academy is so he can stay in the U.S. and satisfy the visa requirements," Paul Vilips said.  "He's currently at the JPGA Academy in Hilton Head.They're helping him get to various tournaments because otherwise he simply couldn't play. We just don't have the financial means.
See Story from Dothan Eagle:
http://www.dothaneagle.com/sports/article_eaad8e86-fbfd-11e3-9cf0-001a4bcf6878.html
See Story from Future Masters Golf:
http://www.futuremastersgolf.com/public/site/