Recently, Ive been noticing a good amount of players resorting to their 3 wood more off the tee. You can get more accuracy on straight shots, but more versatility if you need to work the ball around a left to right, or right to left dogleg. if you miss hit a shot, the forgiveness of the 3 wood still gets your ball up in air and moving, but when you hit the ball solid in the middle of the club face, now a days these 3 woods will fly as far, if not farther than your average 10.5 degree driver.
Taylor Made has now come out with a club that has t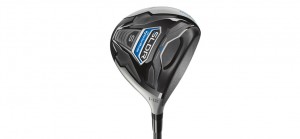 he same feel, and versatility of a 3 wood, with the loft and distance of a driver! The New SLDR Mini Driver may change your game. The 260cc head is slightly larger than a normal 160cc 3 wood but slightly smaller than a normal 460cc driver. This added size give the club a deeper, taller face, letting you tee the ball up higher and get that ball up in the air quicker.
Not only is this club great off the tee, the new sole design makes it just as easy to hit off the deck as your 3 wood. Been trying to go for that one unreachable  par 5 for so long that uve just decided to lay up? With the new SLDR Mini Driver, you'll have no problem getting home in 2, giving yourself a chance for eagle almost everytime with the distance.
Read More Here: http://m.taylormadegolf.com/TaylorMade/SLDR-Mini-Driver/DW-WZ039.html
What do you hit off the tee more often? Are you more comfortable with your 3 wood or your driver?
What brand name of clubs do you prefer? Do you keep all your clubs w/ the same brand or do you switch it depending on the feel of the club?